Please, sir, I want s'mores! The delectable combination of roasted marshmallows, chocolate and graham crackers is a campfire staple; no one will argue with that. The s'more is a perfect camping treat. But whoever said you can't improve upon perfection was wrong, because it turns out there are dozens of ways to make s'mores even more amazing! Here's a run down of 10 ways s'mores can absolutely blow your mind.
Holiday s'mores
If you're craving a taste of summer in the cold of winter, celebrating Christmas in July, or even if you're fortunate enough to be camping somewhere during the holiday season, a little festive cheer on your s'mores will help put you in a festive spirit. Dip your marshmallow in melted chocolate, sprinkle on some graham cracker crumbs, and stick the whole thing on the end of a candy cane for a holly, jolly version of a s'more pop.
S'mores dip
The next time someone puts you in charge of bringing the dip, wow everyone with this amazing s'more dip. The dip travels super well in case you're in the mood for s'mores but don't have a fire. Use marshmallow creme or a layer of toasted marshmallows, and plenty of melted chocolate or hot fudge. And don't forget to bring plenty of graham crackers for dipping!
Grilled s'mores sandwich
Your life won't be complete until you've made yourself a grilled s'more sandwich. Why did someone invent this? Who looked at a s'more and thought, "I'd like to put that on a sandwich and eat it?" A genius, that's who. If you want to get really fancy, batter your bread with egg and milk first like it's French Toast. Yeah, you're welcome.
S'mores milkshake
It's a pretty small leap to go from "s'mores" to "s'mores milkshake": the two seem made for each other. Put your marshmallows under your broiler to get that toasty taste at home, and try peanut butter or hazelnut ice cream and different toppings for variety.
S'mores pizza
Dessert pizzas are fun, but do you know what's s'more fun? S'mores pizza! Like any pizza, the possibilities here are really endless. Should you use traditional refrigerated pizza dough for a base, or make your own brownie or cookie base? Scatter a few big marshmallows, layer up mini marshmallows, or coat the whole thing in marshmallow creme? These are the important decisions you'll be making when it comes to s'mores pizza.
S'mores Bar
As more and more couples are eschewing the traditional wedding cake in favor of creative alternatives, the s'mores bar has been steadily growing in popularity. Not only is it a lot of fun for your guests (or friends, if you're just having a s'mores bar at a casual get-together), it gives you a chance to try all kinds of toppings and combinations on your s'mores. Add peanut butter or a hazelnut spread to your graham cracker. Glazed bacon, salted caramel, fruit such as sliced strawberries and bananas, cookie dough, ice cream . . . They all sound amazing. Offer a variety of cookies along with the graham crackers.
Savory s'mores
Now, if you will, stop for a moment and think about how delicious cheese toasted over a fire can be. Then apply that to a variety of meats and crackers and thank me for introducing you to a whole new level of s'more. Use your imagination here, but remember that cheeses like Brie toast well, and toppings like jam, bacon, and salami go well with cheese and crackers.
S'more cupcakes
Imagine, if you will, a cupcake. This cupcake is baked with graham cracker crumbs, filled with a chocolate ganache, and frosted with whipped marshmallow. As the final touch, the tops have been gently torched to brown, toasty perfection. It is a s'more cupcake, and it is wonderful.
S'mores cookies
If you're looking for a s'more in cookie form, you aren't the only one. Blogging bakers all around the world are out there right now, working hard to perfect the s'more cookie. Cookies dipped in chocolate, cookies slathered in marshmallow, drop cookies and thumbprint cookies and cookie sandwiches. Whatever your desire, someone's invented the recipe. Try s'mores stuffed cookies or s'mores cookie cups to get started.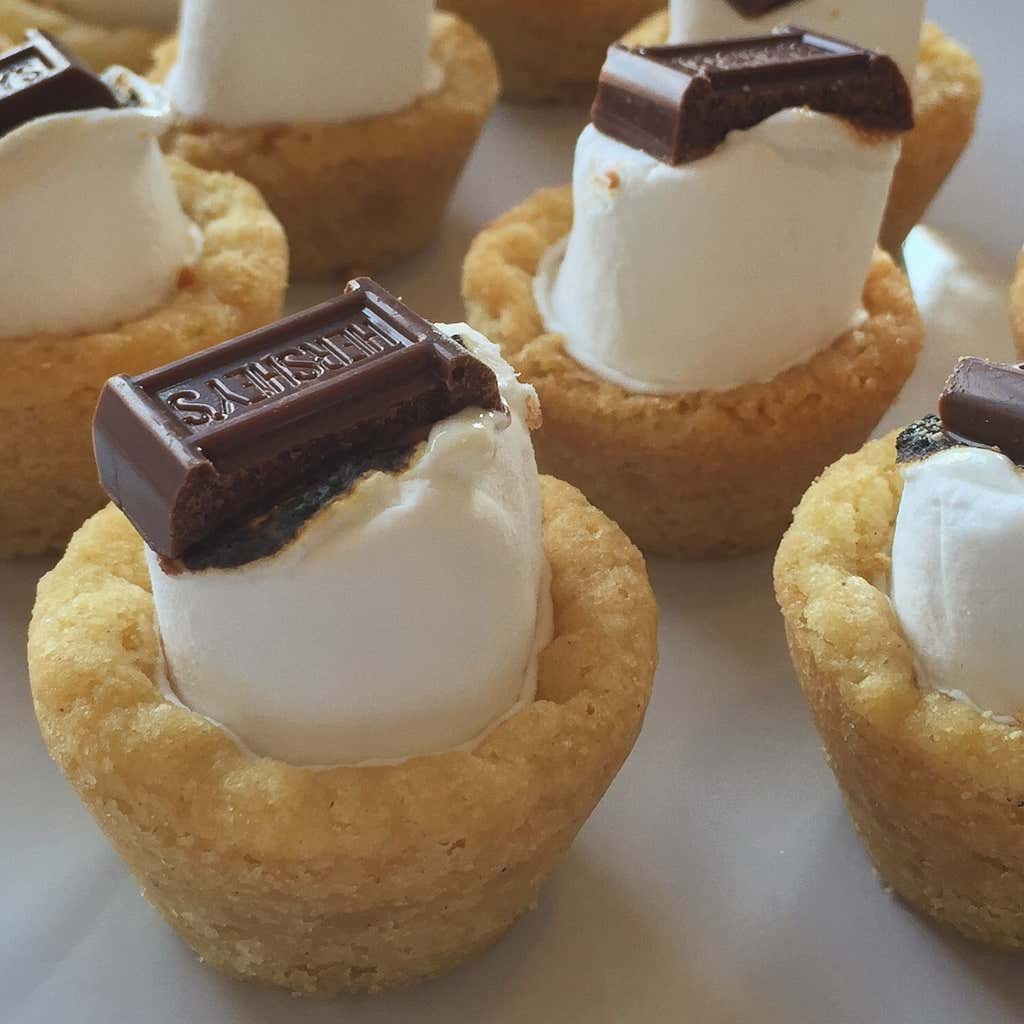 The S'moretini
S'mores have the magical ability to transform adults into children, but this delicious cocktail is definitely for grownups only. Really dress it up with a flaming marshmallow as a garnish. And since a s'more martini doesn't in any way resemble an actual martini, skip the fancy glass and drink these out of mason jars around a bonfire.